Stop 13:
Palmetto Corner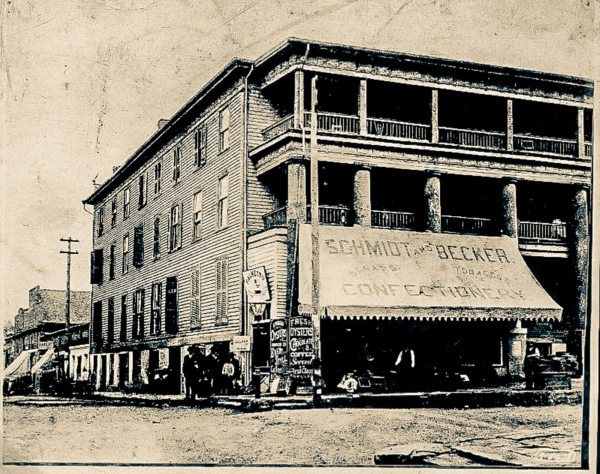 The intersection of Church and Main is the epicenter of downtown. The streets are numbered from here and only this intersection has an old place name: the Palmetto Corner. It's likely that this is the hilltop where Thomas Williamson's tavern stood when the courthouse was being constructed on the square in 1787.
It was still a major center of town in November of 1860, when the hotel here known as the Palmetto House hosted a mass meeting that spilled out into the streets, with large crowds looking to speakers on the hotel balcony. Fired-up over the election of Abraham Lincoln, speakers pontificated about scheming abolitionists and nominated delegates to South Carolina's Secession Convention, to be held in Charleston the following month.
The current structure was built decades later and has seen many uses, most notably as Belk's Department Store. The upper floors are apartments now. When the building was undergoing renovation in 1999, a worker discovered an empty whiskey bottle stuffed with a note from a construction worker in 1898.
Most of the changes here since then are due to Church Street, which was widened into a major highway around 1960. To do so, the side was shaved off the Wild Wings building and an entire block on the upper square was leveled, opening the square all the way to Church Street. Before it was Wild Wings, that building housed Greenwald's, a Jewish-owned clothing store. Although it lost half its size, one of the original massive stairwells remains intact inside.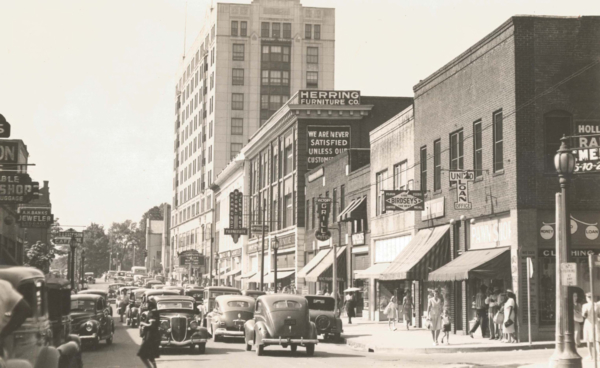 Audio: Stop 13 - 100 Yr. Old Whiskey Bottle Note
---
Side Trip: Library
For more information, photographs, and maps depicting Spartanburg County history, visit the Spartanburg County Public Library on South Church Street, two blocks south of Main Street.