Stop 3:
Masonic Temple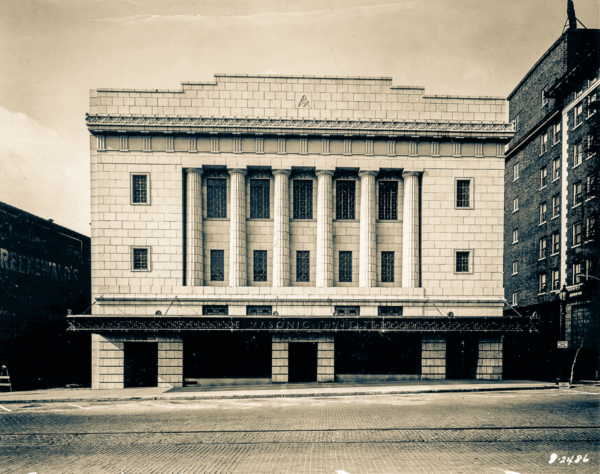 Between 1831 and 1880, downtown Spartanburg's population more than tripled and the arrival of three railroad lines brought commerce and visitors into the city like never before. Coupled with the successes of the emerging textile industry, Spartanburg's fortunes soared in an era when nearly all regional travel was by rail.
By the 1920s, the many railroad lines that radiated from the city would earn Spartanburg the nickname "the Hub City," a name which lives on in organizations like the Hub City Writers Project, which publishes books and manages a bookstore here in the 1927 Masonic Temple. They share the ground floor with a coffee shop and an award-winning bakery. In 2012, Cakehead Bakeshop's cajun tater biscuit was judged the world's best biscuit at the International Biscuit Festival in Knoxville, Tennessee.
The building and site have a storied past. As the site of the Opera House, this location was the focal point of local entertainment and city government from 1880 until 1907, when the need for a larger, modernized space prompted the city to clear the site. A few small buildings occupied the area until several Masonic lodges pooled resources to build a large multifunctional space designed by Spartanburg architect Frank Collins. With the first floor devoted to commercial space, the upper stories house a stately auditorium which is seldom seen by outsiders. Although less numerous than they once were, Masons still meet here regularly.
A panel inside the vestibule explains even more about the history of the building.
Audio: Stop 3 - Hotels, Wagons, and Railroads