Stop 5:
Ezell Street
(around Indigo Hall patio)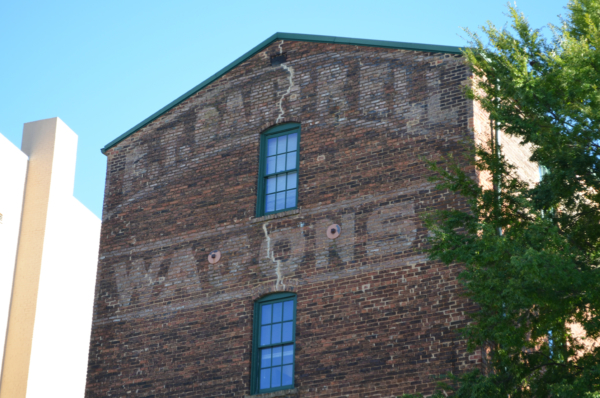 One tiny block north of Main is Ezell Street. Until very recently, it was a cramped, narrow street thickly lined by cavernous warehouses from the early 1900s. Just to our north, where the QS1 headquarters and parking lot now stand, was the depot of the Piedmont and Northern Railway, an interurban electric line that ran throughout the upstate and western North Carolina. It brought passengers and goods several times daily to Spring Street. The warehouses here stored the freight and goods until needed by the shops around town.
As you walk uphill towards Spring Street, glance up at the Main Street buildings and you can catch a glimpse of some old signage for F. T. Cantrell's wagon factory. Before adding motorized cars to their list of fine carriage models, the Cantrells made wagons for generations and owned one of the warehouses down here. The building today houses apartments and the Carriage House Wine Shop, which is named for this history.
The granite stones you see embedded in the patio walls came from under the asphalt, where they were some of Spartanburg's first generation of pavement. A lot of it is still under Ezell Street, but it's been removed in most other parts of town. They were quarried off Fairforest Creek, a mile or so away, along with the granite curbing that once lined all the older downtown streets. As they were pulled up and replaced, many of those curbs became the rough-hewn granite benches that are now scattered all over town.