Stop 6:
Magnolia Street
(around the Self-Made Man sculpture)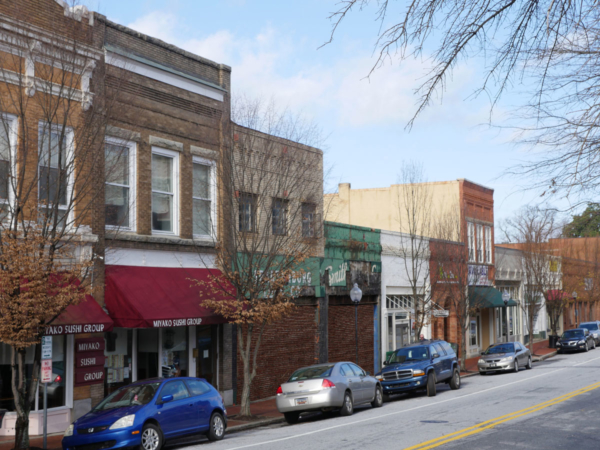 Suburban mall culture was booming but downtown Spartanburg was in dire straits during the 1970s and 1980s. Several drastic attempts to bring life back from the suburbs altered the face of the city permanently.
One of those was the complete leveling of a big block to the right of Magnolia Street, between here and Church Street and from the square to St. John Street in preparation for a large civic center that was never built. Spartanburg lost an entire street of black-owned shops, theatres, and restaurants including some where jazz and soul greats had played before segregated audiences. We also tore out about the entire block of historic buildings facing Morgan Square, and Spartanburg's first skyscraper, the Andrews Building.
Despite that blemish, Magnolia Street remains one of downtown's oldest and quaintest areas, where trolleys and pedestrians from the train depot funneled traffic towards Morgan Square, and where Spartans hiked, hitched, and rode along northward routes to all the mountain towns. The original highway to Greenville started westward along here and at its base stood the house of early antebellum financier Benjamin Wofford, whose bequest founded Wofford College in the 1850s.
Under one of the remaining older buildings on the western side of the street is the old town spring, where visitors to the early courthouse could get a drink for themselves or their horses. All these buildings have had many past lives in every sort of business, but especially saloons, pool halls, and restaurants.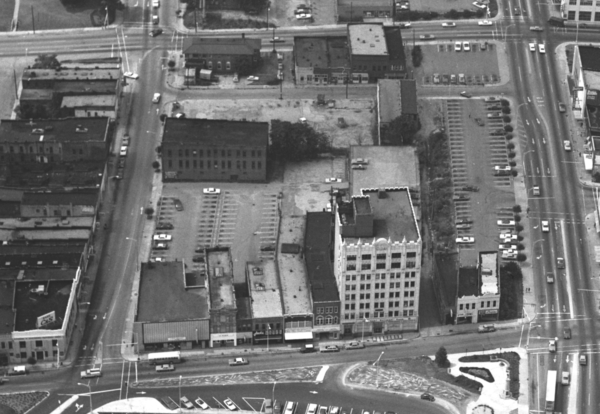 Audio: Stop 6 - Andrews Building Collapse